Young people affected by cancer are up to six times more likely to face mental health issues like depression and anxiety than their peers.
Rich Text 1
Every year, another 23,000 young people have to face the challenge of cancer.
21,000 find out their parent has cancer
1,000 are diagnosed with cancer
1,000 find out their brother or sister has cancer
These young people are up to six times more likely to experience high or very high levels of psychological distress than their peers. Without support, high levels of psychological distress can lead to difficulties at school or university, along with problematic and unhealthy coping strategies such as drug or alcohol abuse, as well as depression and anxiety. Many young people affected by cancer feel very alone and become disconnected from their friends, which can lead to social isolation and an increased risk of mental health issues.
Single Image 1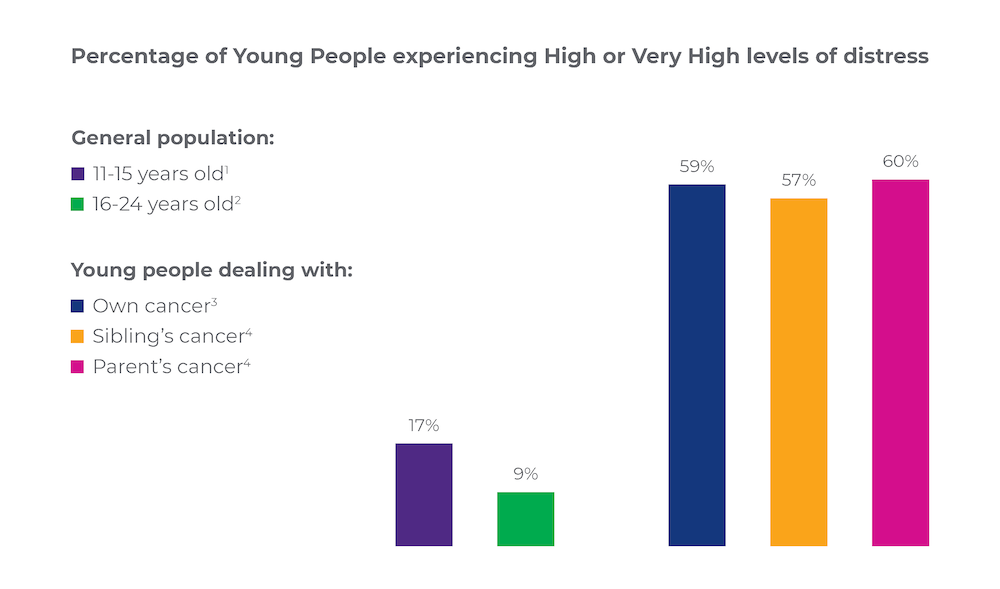 Rich Text 2
You can make a difference and help young Aussies affected by cancer get access to life-changing support in a few different ways including fundraising for Canteen, volunteering and more.
References:
1. Lawrence D, Johnson S, Hafekost J, Boterhoven De Haan K, Sawyer M, Ainley J, Zubrick SR (2015) The Mental Health of Children and Adolescents. Report on the second Australian Child and Adolescent Survey of Mental Health and Wellbeing. Department of Health, Canberra 2. Australian Institute of Health and Welfare (2011) Young Australians: their health and wellbeing 2011. Cat. no. PHE 140 Canberra: AIHW 3. McDonald FEJ, Patterson P (2015) Evaluation of a resource for adolescents and young adults diagnosed with cancer. J Ped Oncol Nurse, doi: 10.1177/1043454214563408 4. Patterson P, McDonald FEJ, White KJ, Walczak A, Butow PN (2017) Wiley. Psycho-Oncology: Levels of unmet needs and distress amongst adolescents and young adults (AYAs) impacted by familial cancer