Women who are choosing to embrace equity 
To mark International Women's Day (IWD) 2023, Canteen is highlighting the women who make a difference within the organisation.
The theme for International Women's Day 2023, is #EmbraceEquity. The aim of the theme is to get the world talking about why equal opportunities aren't enough. People start from different places, so true inclusion and belonging require equitable action.
Within the youth leadership space, Canteen's Youth Adult Reconciliation Network (YARN) group, created to advise on Canteen's Reconciliation Action Plan (RAP) and its deliverables in ways that work towards culturally safe practices, is championed by women. As an organisation, we support national reconciliation in recognition of cancer's disproportionate impact on First Nations peoples. For us, it is important, to gain knowledge via unique perspectives, like those of First Nations women.
In light of this year's theme, we spoke to a few women from the YARN group, (pictured below) who are helping to drive change at Canteen.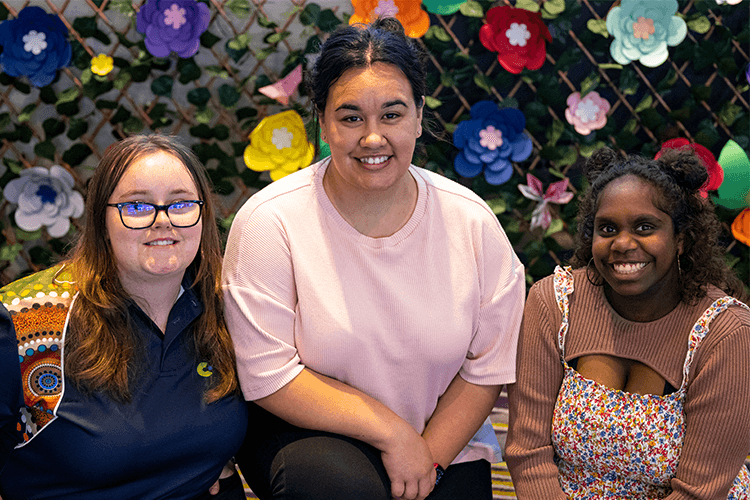 (From left to right; Darci Fish, Tameeka Leremia and Gemma Trueman)
Darci Fish
Why is it critical to understand the difference between equity and equality?
"It is critical to understand the difference between equity and equality as it is two different visions. One is being fair and the other is getting something equal to another, [like] rights, opportunities and more."
Tameeka Leremia
Why is gender equity a crucial part of every society's DNA?
"It impacts people of all ages and backgrounds and it's important to have representation and opportunities across the board. It sets the tone for [the] younger generation looking for a bit of inspiration or even as a role model. Gives off a 'if they can do it, why can't I' [approach]."
Gemma Trueman
Why is equity a must-have?
"Equity isn't just 'a nice to have' it definitely a must have. In life, as a women we have to fight 10x harder to be heard and work harder to be successful. There is also the small portion of women who are people of colour and that's even worse. We have to work harder to be able to be heard and seen and to be successful unfortunately. Men get paid more then Women even if they are doing the same exact job."
Why does there need to be a focus on gender equity?
"Women are told to act a certain way to be able to achieve things. With more focus on gender equity [life] would be a lot easier, less stress[ful] and it would be in a level playing field."
Through these discussions, these women were able to convey what gender equity means to them, and the need for this within everyday society.
Canteen's steps to 'Embrace Equity'
As a response, Sally Andrews, Head of Reconciliation, spoke to Canteen's steps to #embraceequity;
"Canteen's vision for reconciliation is that: First Nations young people and their families, parents and kinship carers experience equitable and safe access to cancer support and health services.
To achieve this equity, Canteen is committed to ensuring that we have a culturally competent and responsive workforce, increasing Canteen's First Nations workforce and to co-creating (in consultation with First Nations stakeholders and staff) a service delivery framework and targeted communications strategy to ensure that First Nations young peoples and families will know of our services and feel comfortable to access them if they are impacted by cancer"
Canteen believes we can all truly embrace equity. It's not just something we say. It's not just something we write about. It's something we need to think about, know, value and embrace. It's what we believe in, unconditionally.
For Canteen, equity means creating an inclusive and culturally sensitive world.
To find out more about Canteen's work in the Reconciliation space, read our Innovate RAP and find our more about the YARN group