By Claire Malengret, National Clinical Advisor
My name is Claire Malengret, and I'm a National Clinical Advisor here at Canteen.
COVID-19 has seen many of us miss out on spending time with our loved ones. Maybe the pandemic has meant not seeing our parents for three months, three years or – in the worst situations – ever again. And as a result, a lot of us are experiencing grief.
Here at Canteen, we spend a lot of time researching grief and developing the best support services for young people experiencing grief. That can be the grief of bereavement, where a parent or sibling has died, but it can also be the grief associated with a loss of independence, a loss of identity or a loss of the type of life a young person thought they were going to have.
Grief is the reaction that we have in response to a death or a loss. It can impact our emotions, our thoughts, our body and many parts of our lives.
Everyone experiences grief very differently and so even though the feelings of sadness and other reactions to grief are natural and normal, it still doesn't make it easy.
Some of the young people that we work with here at Canteen have said that they weren't always prepared for their responses to their loss, particularly how they grieved, which was really in their own way.
The process of grief is a healthy one and it's a process of feeling comforted, coming to terms with the loss and finding ways of coping and adapting.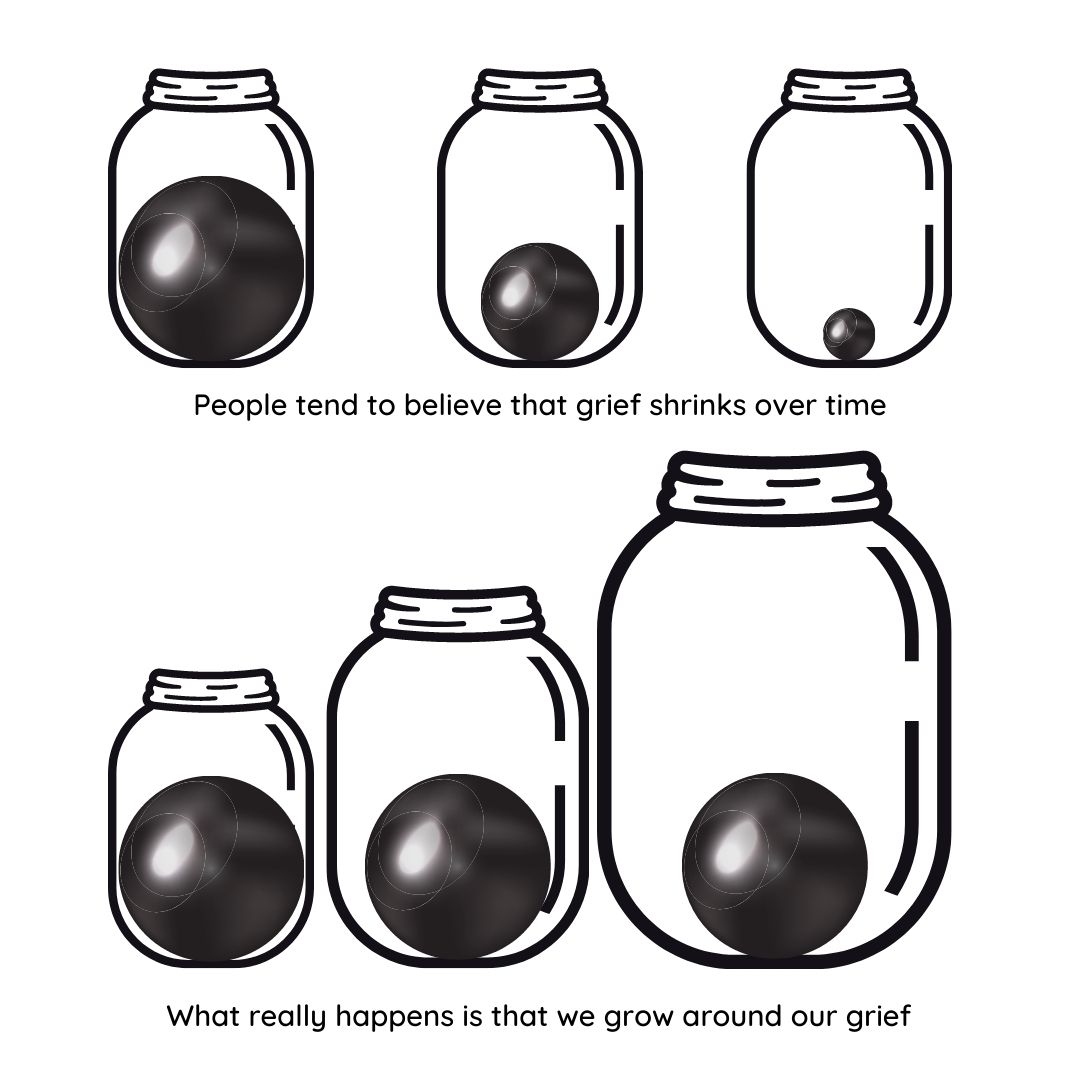 This image is a great analogy that we often use with our young people. Grief doesn't lessen over time. Instead, it actually remains quite present and big, but we learn to live with the grief so that we can move forward.
What we know about the grief process (or 'healthy grieving') is that you need to find ways of expressing your feelings and finding support, finding meaning from the loss and then also taking care of yourself. Those are really important.
That's why Canteen developed Good Grief, a three-day program for young people to learn about grief and how to cope with it as well as talk about their experiences with other bereaved young people who understand. Evaluation of the Good Grief program has found that 99% of young people find it helpful and that it provides a significant improvement in young people's trauma coping abilities. If you're interested in more detail about this, you can read the article in BMC Palliative Care.
We often hear from young people impacted by cancer that friends and family often don't really get what they're going through, which is why the peer support we offer through programs like Good Grief as well as our online community Canteen Connect are so important.
Even though grief is very normal, it can be a difficult and isolating experience, so it's really important to remember that there is support out there and that you're not alone.